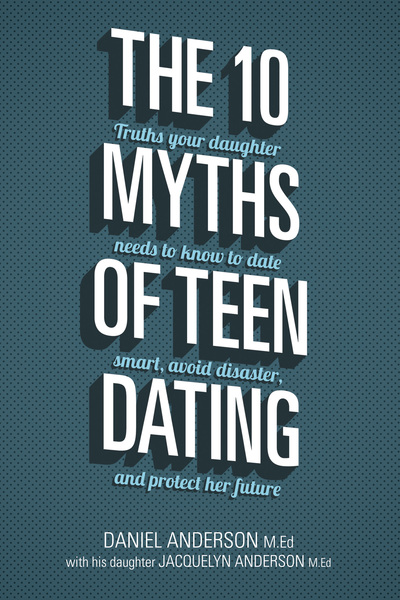 Here at Girlz 4 Christ, our main focus is to reach girls around the world in the name of Christ through positive and appropriate media material. But we know that this couldn't be accomplished without the help of loving, caring, adult role models. I'm talking about the parents. (This includes the adults who have stepped in and taken a parental style of role for youth who need it!)
Girlz 4 Christ relies on these parents to spread the word about our free magazine subscriptions, and to keep this ministry funded. We interact on our Parentz 4 Christ Pinterest board and provide resources on our Parentz 4 Christ webpage. But now, we have a new resource to help you help your daughter navigate uncharted, terrifying territory: dating!
As the editor of Girlz 4 Christ Magazine, I had the opportunity to get involved in the blog tour for Daniel Anderson's new book, The 10 Myths of Teen Dating. Regardless of your personal beliefs or family rules regarding dating, this is a must-read that can apply to all young adult relationships.
I wasn't really sure what to expect these 10 myths to be. Would they just be the author's personal opinions that ends up feeling like a list of dos and don'ts? I was pleased to find out that while each myth may be controversial, they are verifiable by both statistical data and Biblical truth. Each myth also builds upon the previous ones, which really ties the book together. From "If I Had a Boyfriend I Would Be Happy" to "Serial Dating and Living Together Will Help Me Stay Married", these myths are counterbalanced by truth in a loving way.
Because I'm guessing that at least a few teenage girls will end up reading this review, I'd like to recommend that they read this book as well. While it is geared towards parents of teen girls, everyone could glean something from this book. I actually noticed at my local bookstore that they accidentally displayed this book in the teen section instead of on the parenting shelf, so I guess I'm not alone in this! The 10 Myths of Teen Dating was written primarily by high school teacher Daniel Anderson, but also includes pieces by his daughter, Jacquelyn Anderson. Getting the "younger" take from her perspective made each chapter well-rounded. Even if girls end up not reading this book, it could still make a good gift for a parent. I promise that this parenting book isn't filled with strict suggestions that will make your life miserable; honestly!
Daniel Anderson's experience as a parent, teacher, and mentor of teens shines through in each personal example he gives. This includes mistakes he's made that we can learn from! Whether your daughter has never been on a date or has made a series of poor choices when it comes to boys, The 10 Myths of Teen Dating can pick up wherever your family is!
Note: Girlz 4 Christ was provided with a complimentary copy of this book in order for us to be able to give this honest review.